<![CDATA[
The Apollo Bay & District Health Foundation is pleased and proud to announce that as a result of the fantastic fundraising efforts of the runners, the generosity of our major sponsors and other supporters, enthusiastic volunteering by local groups and individuals, B and the fabulous support of our community, we managed to raise $45,000 through the 2016 GMHBA Great Ocean Road Marathon to distribute back into our community, as follows:
| | |
| --- | --- |
| Apollo Bay P-12 College | $20,500 |
| Apollo Bay Pre-School | $5,000 |
| Apollo Bay Sailing Club | $4,000 |
| Wye River CFA | $4,000 |
| Wye River SLSC | $4,000 |
| Kennett River Assoc | $4,500 |
| U3A | $3,000 |
[caption id="attachment_1268" align="alignright" width="494"]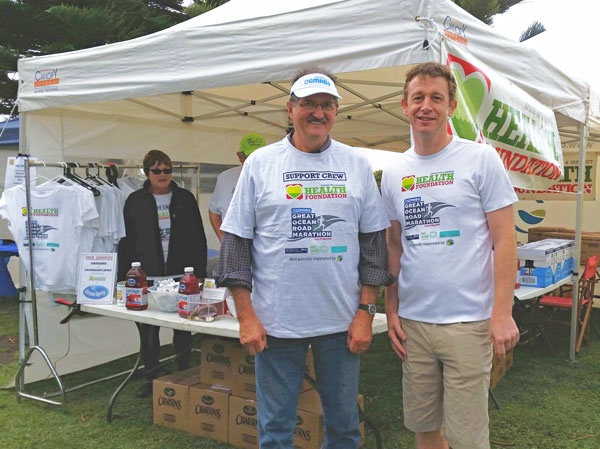 Mayor Frank Buchanan and last year's highest fundraiser, Steve Neal, at the Health Foundation Stall[/caption]
These organisations are always very excited about the amounts being granted to them b& and the Health Foundation is delighted this year to exceed both our 2014 and 2015 distribution totals.
These grants enable our local not-for-profit organisations further enhance their health and wellbeing initiatives and programs, thereby investing back in the local community. The funds also lighten the fundraising burden faced by organisations already struggling to cover rising costs in an atmosphere of reduced government funding.
Health Foundation Chairman, Andrew (Buck) Buchanan said bWe are absolutely delighted with this outcome and hope it will increase the capacity of our community to work together towards shared goals.B Of course, none of this would have been possible without the generosity of our major sponsors, Apollo Bay Bakery, the Apollo Bay Chamber of Commerce and the Apollo Bay Hotel, as well as the support of Otway Health,B Community Care Chemist, Ocean Spray and Grant Day James.b
The Health Foundation is looking forward to working with you again at next yearbs Marathon for the benefit of our local communities along the Great Ocean Road.
]]>